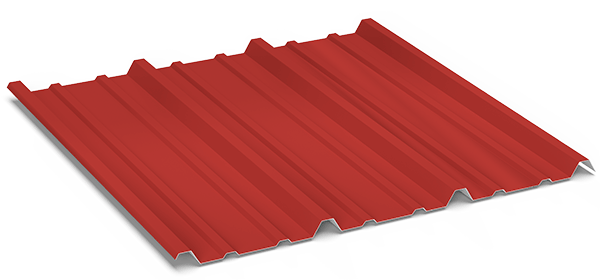 THRU FASTENED PANEL
The R Panel can be installed in a wide range of commercial and residential applications. The panel is a multi-use roof and wall panel that is secured with fasteners through the panel. The panel has excellent purlin spanning capabilities.


R Panel/PBR Metal Roofing Panel Suppliers
Strength is important when choosing metal panels for roofing or wall construction. At Metal Roofing Systems, Inc., we manufacture some of the highest quality metal building components, including R-panels and PBR panels. We are one of the top R-Panel/PBR metal roofing panel suppliers in the South, with locations in Florida, North Carolina, South Carolina and Mississippi.
R-panels and PBR metal panels are both designed for superior strength. They are similar in their profile and rib height, but there are slight differences between the two. Both can be used for commercial or residential roofing or wall applications, but usually PBR panels are used in roofing while R-panel are used more for wall covering.
The PBR panels have a Purlin-Bearing leg that makes these panels a better choice for roofing, especially low sloped roofs. The leg offers better support that may be needed for low profile roofs. PBR panels are excellent for commercial roofing and many industrial applications.
R-panels are very versatile and come in many colors and coating options for residential and commercial roofing and building projects. R-panel/PBR panels are one of our most popular products due to their easy installation and durability, especially for commercial and agricultural applications.
Commercial and Residential Metal Panels
At Metal Roofing Systems, Inc., we have been serving the southern and midwestern states since 2010, manufacturing top quality metal panels for building construction and roofing applications. We offer a wide selection of beautiful colors and coatings for our resilient R-panel/PBR metal panels. Our locations throughout the southern states provide excellent customer service for our contractor and agricultural clients. We provide same day pickup of metal panel components at our branches, as well as crane delivery to construction sites and agricultural farms throughout the South and Midwest.
If you need quality R-panel/PBR roofing panels for an industrial, commercial, agricultural or residential construction project, contact your local branch of Metal Roofing Systems, Inc. We are one of the top manufacturers and suppliers of metal roofing panels in the South. We have locations in Jackson, MS, Conway, SC, Stanley, NC and Clearwater, FL, for your convenience. Contact our team for a quote or to place your order for metal roofing or building panels.
Available Materials
Galvalume (24, 26 gauge)
Available Widths
36"
Substrate Requirements
Can be installed over Solid Substrate or on Open Framing.
Minimum Roof Pitch
1:12
Recommendation
Solid Substrate requires 30# Felt, Ice & Water Shield or Synthetic Underlayment.
Finish
Kynar 500 (35 year non-prorated finish warranty)
Kynar Finish Warranties
Siliconized Polyester Finish Warranty
Find a Location Near You
Metal Roofing Systems, Inc. has earned a phenomenal reputation for our excellent customer service. We have branches in Florida, Mississippi, South Carolina and North Carolina, with our headquarters in the Stanley, North Carolina area. We offer same day pickup options at some of our branches as well as Jobsite Delivery through the Southeast, Southwest and Midwest regions.
For the best quality metal panels and roofing materials with superior customer service, you can depend on Metal Roofing Systems, Inc. We stand behind our metal products for residential, commercial, and agricultural structures. Contact us today for a free quote on your next construction or roofing project.