MRS 3000 – 3" Mechanical Lock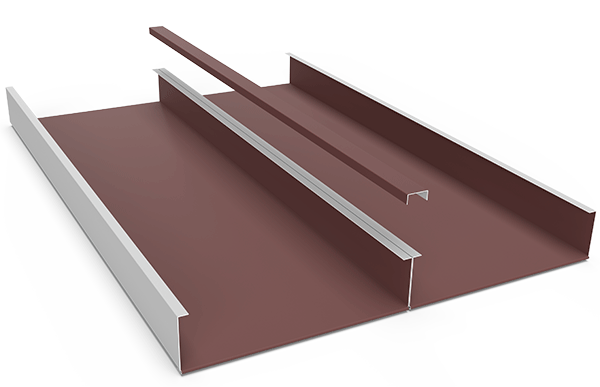 STRUCTURAL STANDING SEAM W/ BATTEN
The System 3000 is a structural metal roof panel with a 3" mechanical seam. This metal roof panel has excellent structural spanning capabilities and can meet high wind loads. Designed with a 3" tall seam having a batten cap, the panel will perform well in low slope roof conditions and is removable.

Available Materials
Galvalume (22, 24 gauge)
Aluminum (.032, .040, .050)
Copper (16 & 20 oz)
Available Widths
12" – 18"
Panel Options
Striations (Recommended)
Flat
* Factory applied Seam Sealant
Substrate Requirements
Can be installed over Solid Substrate or on Open Framing.
Minimum Roof Pitch
1/2:12
Underlayment
Ice & Water Shield (recommended) or Synthetic Underlayment.
Finish
Kynar 500 (Fluoropolymer PVDF Coating)
** Mechanical Seamer Required. For seamer rental please contact am MRS representative

Weathertight Warranties
Finish Warranties
Material Warranty
Panel Performance
UL 580 Class 90 (Uplift),
UL 790 (Class A Fire Rating)
UL 2218 (Impact Resistant)
ASTM 1592 (Uplift) Aluminum, Galvalume
ASTM 1646 (Water Penetration)
ASTM 1680 (Air Infiltration)
ASTM 2140 (Static Water Penetration)
Can be engineered to current ASCE 7 design standard
Energy Star
All of our metal panels are Energy Star certified and qualify for a federal tax credit. More Info …
LEED
Our product can qualify for the following LEED Credits
SS Credit 7.2 Heat Island Effect: Roof
MR Credit 4.1 Recycled Content
MR Credit 5.1 Regional Materials
Please contact Metal Roofing Systems to find out if your project will qualify for these LEED credits.