MRS 2500 – 2" Mechanical Lock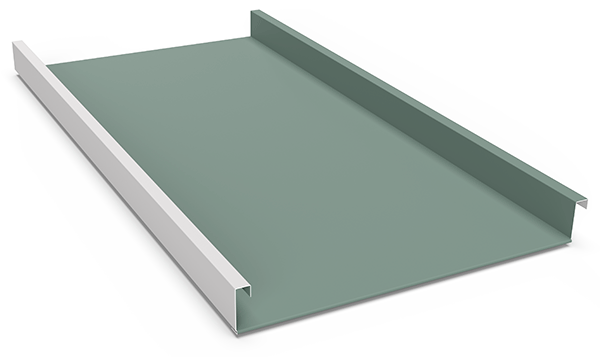 STRUCTURAL MECHANICALLY SEAMED
The System 2500 metal roof panel is a 2″ mechanically seamed structural metal roof system. This metal roof panel has excellent structural spanning capabilities that can meet high wind loads and will perform well in low slope roof conditions. This panel can be installed using different seam styles: 90°(Single Lock) and 180° (Double Lock) with the use of a mechanical field seamer. The panel design is excellent for radius roof conditions.

Available Materials
Galvalume (22, 24 gauge)
Aluminum (.032, .040, .050)
Copper (16 & 20 oz)
Available Widths
12" – 20"
Panel Options
Striations (Recommended)
Flat (Not Recommended)
Curved/Radius
Stress Ribs
* Factory applied Seam Sealant
Substrate Requirements
Can be installed over Solid Substrate or on Open Framing.
Minimum Roof Pitch
1/2:12
Underlayment
Ice & Water Shield (Recommended) or Synthetic Underlayment.
Finish
Kynar 500 (Fluoropolymer PVDF Coating)
** Mechanical Seamer Required. For seamer rental please contact am MRS representative

Weathertight Warranties
Finish Warranties
Material Warranty
Panel Performance
UL 580 Class 90 (Uplift),
UL 790 (Class A Fire Rating)
UL 2218 (Impact Resistant)
ASTM 1592 (Uplift) Aluminum, Galvalume
ASTM 1646 (Water Penetration)
ASTM 1680 (Air Infiltration)
ASTM 2140 (Static Water Penetration)
Can be engineered to current ASCE 7 design standard
Energy Star
All of our metal panels are Energy Star certified and qualify for a federal tax credit. More Info …
LEED
Our product can qualify for the following LEED Credits
SS Credit 7.2 Heat Island Effect: Roof
MR Credit 4.1 Recycled Content
MR Credit 5.1 Regional Materials
Please contact Metal Roofing Systems to find out if your project will qualify for these LEED credits.