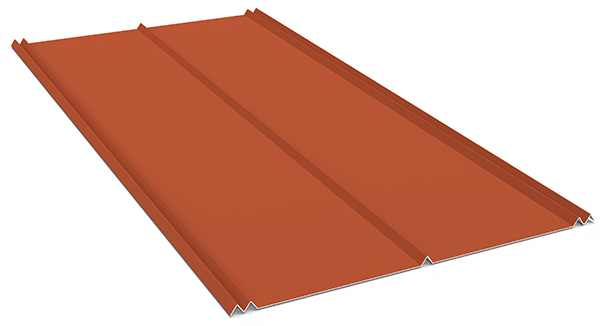 THRU FASTENED PANEL
The 5V panel is ideal for residential applications. It is one of the oldest most reliable residential panels in the industry. The panel is secured with fasteners through the panel.


Painted 5V Crimp Metal Roofing Panel Suppliers
Coastal weather can take its toll on structure exteriors. Homes and businesses along the Atlantic coast need superior exterior protection against high winds and environmental deterioration. Metal panels for roofing and siding can provide excellent protection for coastal structures, especially painted 5V metal panels. Metal Roofing Systems, Inc. is one of the top painted 5V crimp metal roofing panel suppliers along the southern Atlantic coast.
Painted 5V crimp metal panels are a popular option in the South and Southeast. Its hurricane and high wind resistance makes it ideal for siding on homes and buildings in Florida, North Carolina, South Carolina and throughout the southern coastal states. This product is designed to protect structures from weather damage while providing a beautiful, vintage appearance. For structures in hurricane zones, painted 5V crimp panels are an excellent investment to reduce the risk of wind or weather damage.
Metal Roofing Systems, Inc. is a top manufacturer of metal panels, including painted 5V crimp metal panels. We offer a wide selection of color options using our advanced ceramic pigment paints. The strong galvalume steel is protected by baked on paint that is chip and scratch resistant. Our 5V crimp metal panels can protect buildings for decades with little maintenance required while offering a beautiful exterior for all types of structures.
Beautiful Metal Siding
Whether you are adding siding to a home, barn, outbuilding or commercial structure, painted 5V crimp metal panels are a durable option. Metal Roofing Systems, Inc. has been manufacturing and supplying top quality metal panels since 2010. We only use the best materials and adhere to the highest quality standards when creating long-lasting painted 5V crimp panels and all our other metal products. We offer same day pickup on most metal panel orders at our branches throughout the South, as well as convenient delivery to your construction site.
Give your customers access to top quality metal products for your next residential, commercial and agricultural building project. Metal Roofing Systems, Inc. has branches in Florida, North Carolina, South Carolina and Mississippi for your convenience. Contact your location near you for a quote on our painted 5V crimp metal panels.
Find a Location Near You
Metal Roofing Systems, Inc. has earned a phenomenal reputation for our excellent customer service. We have branches in Florida, Mississippi, South Carolina and North Carolina, with our headquarters in the Stanley, North Carolina area. We offer same day pickup options at some of our branches as well as Jobsite Delivery through the Southeast, Southwest and Midwest regions.
For the best quality metal panels and roofing materials with superior customer service, you can depend on Metal Roofing Systems, Inc. We stand behind our metal products for residential, commercial, and agricultural structures. Contact us today for a free quote on your next construction or roofing project.