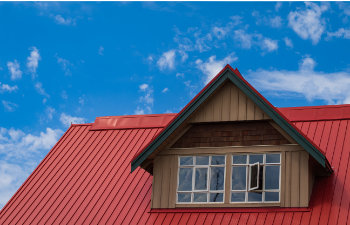 Underlayment is the term used to describe the material laid over sub roofing before the final roof covering is installed. Underlayment products offer weather protection while building construction is ongoing, as well as increased energy efficiency and protection from water infiltration after the roofing system is installed.
Metal Roofing Systems, Inc. is the leading manufacturer of durable metal roofing and panel products for commercial and residential applications. Here, we review the different types of popular underlayment materials used with metal roofs, so you can determine which is best for your particular project.
Felt or Tar Paper
Felt paper roofing underlayment has been around for decades and is an affordable product that is relatively easy to install. It is made from fiberglass or wood and generally coated with asphalt for increased water resistance. Also known as tar paper, this popular roofing underlayment is used extensively in residential applications where asphalt shingles are installed, and even underneath some metal roofs.
Synthetic Underlayments
Synthetic underlayments come in two varieties, categorized in how they are attached to the sub roofing. Both use some form of laminated polypropylene or polyethylene plastic and are superior to felt or tar paper for weather resistance, energy efficiency and overall durability.
Mechanically Attached
This version of synthetic underlayment is attached using nails or screws. It comes in large, square rolls that are easier to install than felt, are extremely durable and allow for walking on the roof without fear of damage. Mechanically attached synthetic underlayment products are typically affordable and best used on flat areas, not in eaves, valleys, ridges, hips, and rakes.
Peel-and-Stick
Peel-and-Stick synthetic underlayments are usually a 3-ply system with a top of synthetic material, a middle of modified bitumen and a bottom layer of adhesive. The middle bitumen layer allows this product to seal around small penetrations (such as those from mechanical fasteners). Peel and stick underlayments are commonly combined with mechanically attached underlayments, and only used in potential problem areas like valleys, ridges, hips, eaves, chimneys and over penetrations.
Metal Roofing Products for Commercial and Residential Projects
Metal Roofing Systems has everything you need for all your commercial and residential roofing projects, including quality underlayments. Contact us to learn more or to ask about product information, delivery timelines and ordering.
Posted on behalf of Metal Roofing Systems