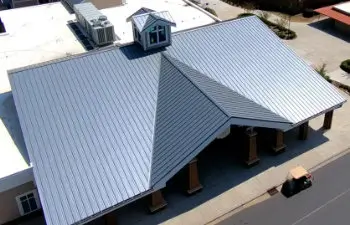 When it comes to selecting the ideal metal roofing solution for your commercial or residential building, you may have come across R metal panels and PBR metal panels. Each type of panel is a popular choice for both residential and commercial applications due to their durability and cost-effectiveness. Typically used for roofing, siding and wall applications, they both offer unique benefits, but understanding their differences and applications is crucial in determining the most suitable choice for your project.
R Metal Panels vs. PBR Metal Panels
R metal panels are a popular choice for both residential and commercial applications due to their durability and lower cost relative to PBR panels. PBR metal panels are also known for their versatility, but they have a few additional features that may make them a better choice.
One of the key differences is PBR panels have a higher rib height and a slightly wider panel than R panels, providing added strength and improved water resistance. Depending on your needs and local weather patterns, this may make PBR panels a better choice for commercial buildings and agricultural structures.
Due to its strength and water resistance, PBR metal panels are often the better choice for roofing.
It's important to remember that R metal panels have successfully been used for decades. Both types of panels can be used for roofs, siding and walls, and you are not limited to one or the other. Many projects use different panel types for different purposes within the same building. Consulting a metal panel expert can help ensure you get the right metal panel for your project needs.
Your Trusted Metal Roofing Panel Supplier
Metal Roofing Systems, Inc. is one of the top manufacturers and suppliers of metal roofing panels, serving clients since 2001. Working with us ensures you receive top-quality metal panels for your building construction and roofing applications. We offer a wide range of metal panel and roofing options to residential, commercial and agricultural clients, and all our products are made in fixed and controlled environments with stringent quality controls and consistent high-performance products.
Contact us today to discuss your metal panel needs and discover how we can help you make the best choice for your project.
Posted on behalf of Metal Roofing Systems