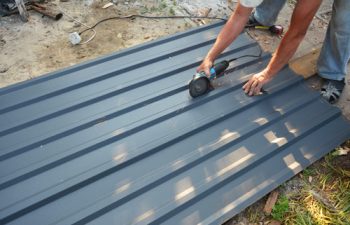 One of the reasons metal roofing is desirable in coastal regions of the United States is its superior wind resistance compared to other roofing materials. While no roofing material can claim to be 100% wind resistant, quality metal roofing systems can offer better performance in high-wind areas such as Florida and the Carolinas. When considering roofing materials for any structures in hurricane or high-wind regions, metal roofing systems that are designed for optimal uplift performance are considered the best option available.
Wind uplift is a major concern when considering roofing systems. In areas where high winds can cause extensive damage to structures, rating roofing for its wind uplift performance is vital. Wind uplift occurs when the air pressure below a roofing system is higher than the air pressure above. This can exert pressure that separates the roofing components from the roof deck. Wind uplift can cause extensive damage to the eaves, shingles/panels, ridges and other roof components, jeopardizing the integrity of the structure.
Wind Uplift Performance
When it comes to wind resistance and roofing, a major factor is uplift performance. Unlike asphalt and other roofing materials, metal roofing designs can outperform when it comes to uplift during high wind storms. One of the best metal roofing systems for uplift performance is our standing seam roofing. When the correct gauge, rib height and clips are used, standing seam can provide one of the highest ratings in uplift performance available in roofing systems.
Metal roofing systems are recommended for high wind regions due to their improved wind uplift performance, especially in coastal areas. When quality systems with high wind rating are installed, some insurance companies offer a discounted premium due to the improved protection during wind, hail and other destructive storms.
At Metal Roofing Systems, Inc., we design, engineer and manufacture exceptional metal roofing systems that are capable of offering extreme wind resistance. To learn more about our metal roofing systems and our wind uplift performance ratings, contact one of our branches.
Posted on behalf of Metal Roofing Systems