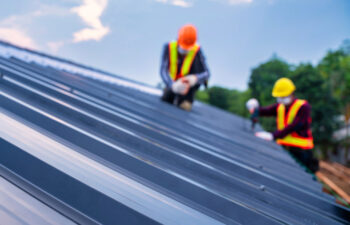 Metal roofing comes with many benefits when the right coatings and paint are applied to the surfaces of the panels. Not only does paint or crinkle coating improve the aesthetics of the roofing panels, but both offer protection for the metal and provide UV ray reflective properties. At Metal Roofing Systems, Inc., we utilize cool metal roofing technology that helps improve the longevity and performance of our metal products.
What Is Cool Metal Roofing?
When discussing cool metal roofing technology, it has nothing to do with the metal in the roofing panels. The "cool" technology is within the paint or coating that is applied to the metal to offer energy efficiency and other benefits to the roofing system. At Metal Roofing Systems, Inc., we use "cool chemistry" technology in our paints, which use ceramic pigments that reflect UV light. We also offer Weather XL crinkle coating, which adds texture and improves aesthetics, while also reflecting and refracting light.
The main benefit of cool metal roofing is the energy efficiency it provides. The reflection of UV rays reduces the absorption of heat into the building, lowering energy costs for cooling during the hotter months of the year. This can provide significant savings, which makes cool metal roofing very attractive to businesses and homeowners. Other benefits of cool metal roofing include:
Eco-friendly and recyclable
Can help reduce energy overload on power grids (blackouts)
Cool chemistry technology protects color retention
Cool metal roofing is resistant to scratching and chipping
The extensive benefits of cool metal roofing and siding make it a wise investment that is designed to last for decades. The savings it can provide, along with the other advantages, have increased the demand for metal roofing with cool chemistry technology, especially in the warmer regions of the country.
At Metal Roofing Systems, Inc., we are proud to manufacture and supply top-quality cool metal roofing and siding through our branches in the U.S. Call your nearest branch to learn more about our energy-efficient, cool metal roofing systems.
Posted on behalf of Metal Roofing Systems