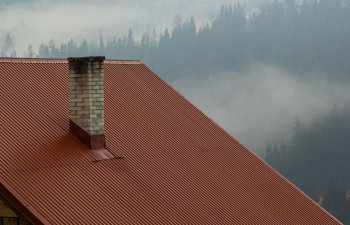 As winter approaches, many homeowners and business owners may wonder if metal roofs are suitable for winter weather. The answer is yes. Metal roofs are an excellent choice for winter climates. Metal Roofing Systems provides commercial and residential roofing and soffit materials that stand the test of time, even in winter climates. We manufacture top-quality metal products at our own facilities in six different states across the US.
Should you consider a metal roof for your home or business? Here are some reasons why metal roofs are superior solutions even in winter weather.
Durability and Strength
Metal roofs are incredibly durable and can withstand harsh weather conditions, including heavy snowfall and high winds. They are designed to be strong enough to support the weight of snow and ice, which is especially important in regions with heavy snowfall. Unlike traditional shingle roofs, metal roofs won't crack or warp under the pressure of snow and ice, which can lead to leaks and other damage.
Metal roofing panels from Metal Roofing Systems are manufactured in a controlled environment with fixed machines. We manufacture panels in various gauges from aluminum, stainless steel, galvalume, lead, copper and other metals to meet each project's requirements.
Energy Efficient
Metal roofs are also highly energy-efficient, which is especially important during the winter months. They reflect sunlight and heat, which helps to keep your home warm and comfortable. This means you'll spend less money on heating costs and enjoy a more comfortable living environment. Metal roof panels are also excellent insulators to keep cold air outside and warm air inside.
Fire Resistant
Another advantage of metal roofs is that they are fire-resistant. This is particularly important during the winter when space heaters, fireplaces and other heating devices are used. Metal roofs won't catch fire or spread flames, which can help to prevent a disaster in case of a fire.
Easy Maintenance
Metal roofs are also easy to maintain, which is especially important during the winter months when it can be difficult to access your roof. Unlike shingle roofs, metal roofs don't require frequent repairs or replacement. They are designed to last for decades with minimal maintenance, a significant advantage for homeowners and business owners alike.
Improved Value
A metal roof improves the value of your home or commercial property. They are a popular choice among homeowners and can help to increase your home's curb appeal. Business owners love metal roofs because their investment lasts longer and requires few repairs. Metal roofs offer long-term energy savings for any structure, which can be attractive for prospective buyers and builders.
Get Help Choosing the Best Metal Roofing Solution for Your Home or Business
Metal roofs are an excellent choice for homes and commercial buildings in winter climates. They are durable, energy-efficient, fire-resistant, easy to maintain and can improve the value of your property. Contact Metal Roofing Systems today to learn more about metal roofing systems for residential and commercial applications.
Posted on behalf of Metal Roofing Systems