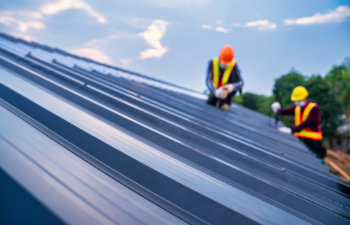 When choosing the right product to complete a metal roof, there are many different options available. One of the most popular for both residential and commercial applications is the PBR panel. There are a few reasons that contractors recommend PBR panels to their customers over other metal roofing products. Here is what you need to know about PBR panels and how they can be used to create quality roofing that will last for decades.
What Is a PBR Panel?
PBR metal panels are a staple in the agricultural and commercial construction industry, but they are also used for residential roofing. PBR stands for "Purlin Bearing Rib," referring to the purlins on prefabricated metal structures. The PBR panels are attached to the purlins on the rafters to create the roofing. The panels have ribs that are trapezoid in shape with smaller ribs placed between the larger or deeper ribs.
Why Choose PBR Panels
There are many benefits to using PBR panels. While R-panels are similar in construction, they do not have the same strength as PBR panels. There are advantages to using PBR panels for a variety of structures, providing excellent value and longevity. These benefits include:
PBR panels are less likely to crumple or bend under the weight of workers walking on the roof.
The overlap on PBR panels is larger than R-panels and other metal panels. This can provide superior strength.
PBR panels are excellent for regions with high wind and soaking downpours. This type of roofing offers better wind resistance and waterproofing than many other options.
The design of the PBR panel allows it to be very strong, yet lightweight compared to some offer metal panels.
PBR panels are excellent for low-sloped roofing.
While R-panels are great for commercial wall coverings and other applications, PBR panels are the product of choice for roofing on many structures. When you choose the right manufacturer, you can expect excellent results from PBR panel roofing systems for agricultural, commercial, industrial, and residential structures.
Choosing the Right PBR Panel Manufacturer
At Metal Roofing Systems, we are your source for top-quality PBR panels and other metal roofing components. Over 20+ years, we have earned a reputation amongst our customers for providing premium metal roofing supplies, including our PBR panels. We strive to be faster, smarter, and better than our competition, which is why we have built our niche in the metal roofing industry. We have excellent warranties available on our PBR panels, for up to 40 years.
If you are looking for a metal roofing panel that is built to last and withstand the elements, consider using PBR panels from Metal Roofing Systems for your next building project. To learn more about our PBR panels and other quality roofing components, contact our distribution center near you.
Posted on behalf of Metal Roofing Systems