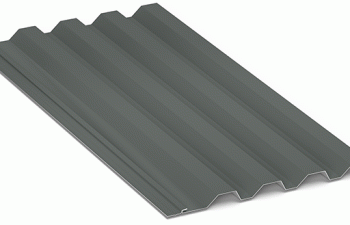 More and more contractors and homeowners are choosing metal siding for their exteriors. While once considered only for commercial, industrial and agricultural applications, metal siding is beginning to trend as a functional and contemporary option for residential siding. With the color and texture options now available, metal panel siding can be a beautiful and lasting choice for protecting homes with many advantages over other materials.
Longevity and Resistance
Some of the reasons metal siding is becoming more common in residential construction is its longevity and strength. Especially in areas susceptible to harsh weather conditions, metal siding can provide better protection from wind, hail and other element damage. When quality metal panels are installed, they can last for many decades, outlasting other siding materials.
Easy Maintenance
Metal is one of the easiest exterior surfaces to maintain, which is why it is popular for roofing and siding. Metal does not need yearly pressure washing like vinyl or painting or staining like shakes. Painted metal panels are naturally fungus-resistant and simple to keep looking beautiful for years.
Modern Appearance
The sleekness of metal panels provides a modern appeal that can complement contemporary architecture. There are many colors, textures and styles available to create the look desired. Metal Roofing Systems, Inc. offers a wide selection of colors for our metal panels and we also have Weather XL crinkle coating available.
Energy Efficiency
Metal siding, like metal roofing systems, can save money on energy bills. The reflective quality of our paint technology can help reduce energy costs by up to 30% when metal panels are used for roofing and siding on residential homes.
Insect Repellent
Metal siding is a great way to keep aggravating pests from invading homes. Termites, bees, ants and other bugs are less likely to crawl under metal siding, reducing the need for pest control and spraying around the home.
At Metal Roofing Systems, Inc., we manufacture high quality metal panels that can be used in many applications, including residential siding. Contact one of our branches to learn more about our metal products and services.
Posted on behalf of Metal Roofing Systems