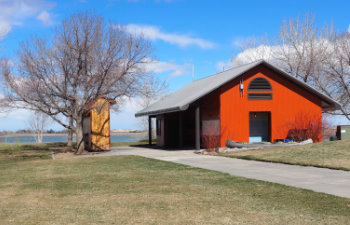 Pole barns have been around for about 90 years and are one of the most economical options for erecting a barn for livestock. They are sturdy and can be placed almost anywhere, which makes them a valuable option for residential and commercial farming operations. However, pole barns can be used for much more than housing chickens or cows – they can be excellent options for many creative uses.
Pole barns are constructed with wood or metal "poles" that are driven into the ground. Back in the 1930s, retired telephone poles were used as anchors to build cheap barns, resulting in the name "telephone-pole barn." Now just called pole barns, they are a mainstay structure for all types of property owners as they do not need a foundation or level ground, saving time and money.
Popular Uses for Pole Barns
You will find many pole barns on farms, but they are used in many industries and for personal enjoyment. They come in all sizes and can be customized with many advanced features. At Metal Roofing Systems, Inc., we design and build top-quality pole barns that are used all over the country for a wide range of purposes.
Hobby Workshop
Need a place for woodworking or to set up large quilt racks? Pole barns are great outbuildings that give you the space you need for your favorite hobby or side gig.
Guest Quarters
Pole barns can give you extra space for visitors and guests to stay outside of your home. Many people have used pole barns to build homes or as guest quarters.
Warehouse
Pole barns can be erected on your commercial premises to serve as storage or warehouse. This is an economical solution for adding more space for inventory and supplies.
Green or Hothouses
Pole barns can be used to start a hydroponic farm or as a greenhouse. There are various styles and sizes to choose from that can fit the needs of amateur and professional agricultural operations.
Equine Arenas
Horse owners utilize pole barns for many equine purposes, from actual barns or stables to arenas for gaming and training.
Garages
From RVs, ATVs, and motorcycles to a complete classic car collection, you will see many pole barns that have a different type of "horsepower" inside.
He or She Cave
Whether it's the ultimate home sports bar or a giant play area for the kids, pole barns can be a durable and cost-effective way to add private living space to a property. They can be made into "man caves" or "she sheds" to give everyone their own space.
At Metal Roofing Systems, LLC., we offer pole barns that come in up to 18 different colors that are built to withstand different weather conditions. Contact our sales team at one of our branches to learn more about our pole barn solutions.
Posted on behalf of Metal Roofing Systems